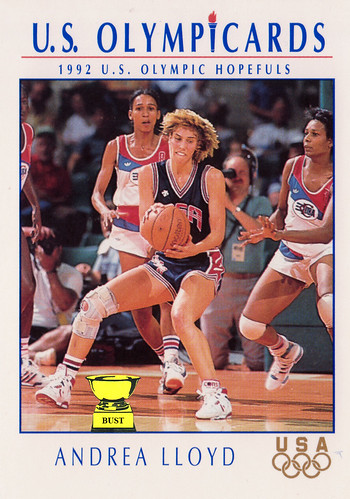 Name:
Andrea Lloyd
Event:
Basketball
Medal count:
1 gold
Value of card:
An autographed image of Sideshow Bob
Key 1988 stat:
Beat the tar out of some communists
Fun facts about 1988 U.S. Olympic basketball gold medalist Andrea Lloyd and the nation of Cuba, the nation she's playing against in this photo:
Cuba has a large number of palm trees. Andrea Lloyd's hair looks like a palm tree.
Cuba is not known for treating journalists kindly. Andrea Lloyd would probably like to punch this photographer in the neck.
One of Cuba's top resources is nickel. This Andrea Lloyd card is worth less than a nickel.
Cuba has been under the control of one family since the late 1950s. That's about the time Andrea Lloyd's knee brace was made.
Some people travel to Cuba to have cheap dentistry work done. Hint, hint, Andrea Lloyd.