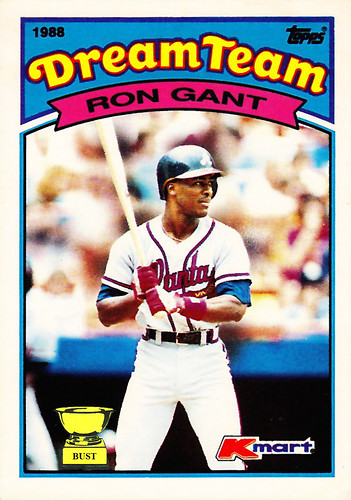 Name:
Ron Gant
Teams:
Atlanta Braves, Dream Team
Position:
Outfield
Value of card:
35-cent coupon to Kmart
Key 1987 stat:
27 "blue-light specials" (wink, wink)
A sampling of Ron Gant's dreams circa 1988:
He dreamed he had a flowing

mullet

that angels kissed and fairies stroked.
He dreamed he was falling — into great prices at his local Kmart superstore.
He dreamed he was a

sex symbol

whose muscular physique led millions of new fans to appreciate the game of "hardball."
He dreamed he was a man with an incredibly short full name, Ron Gan.
He dreamed he showed up to a baseball game wearing his Sunday's best belt.
He dreamed his pencil-thin mustache grew as bushy as the ivy at Wrigley Field.
He dreamed he was part of an incredible team of dream athletes, a

Dream Team

, if you will.