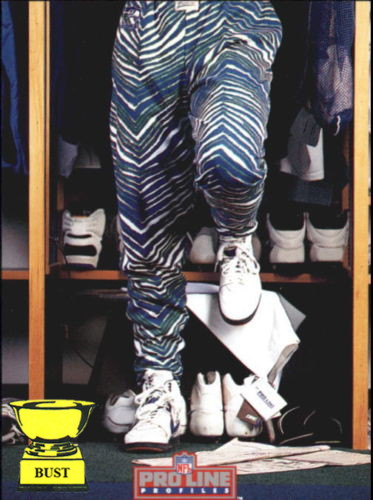 Name:
Zubaz
er,
Dan McGwire
Team:
Seattle Seahawks
Position:
Quarterback
Value of card:
Two stripes
Key 1992 stat:
Refused to be photographed from the waist up
Clairvoyance:
Don't get us wrong, this Pro Line Portrait definitely is shameful. Ol' Danny boy here has more shoes than a Foot Locker and pants loud enough to make Marlee Matlin wince, after all. But what's more amazing is the prescience of the photographer who took this shot. He clearly knew that 20 years later, Dan McGwire would be a faceless figure, forgotten about and relegated to lists of biggest draft busts in NFL history, but that Zubaz pants
would live forever
. All hail the Zubaz!