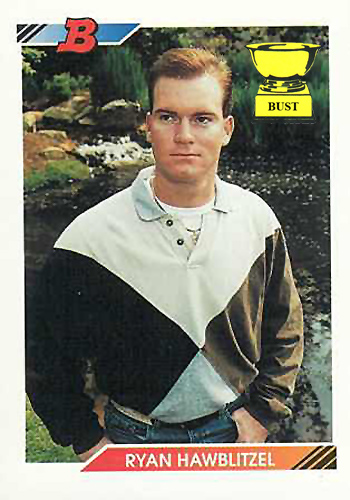 Name:
Ryan Hawblitzel
Team:
Chicago Cubs
Position:
Pitcher
Value of card:
Zero (fashion) cents
Key 1991 stat:
221 hours practicing the "thumbs in the jeans pockets" look
Today's fashion model:
Here we have Ryan Hawblitzel, an ace when it came to style (and style alone). No one in the big leagues sported minor-league outfits with such pride and pizazz. A collared sweatshirt tucked into jeans? Why not? A player known for his exploits on the diamond wearing a shirt of intersecting diamonds? Of course. A guy who looks like
an actor
standing in front of a housing development pond and acting like he's the coolest guy in high school? You bet. Don't question fashion maven Ryan Hawblitzel, a minor-leaguer with big-league style.