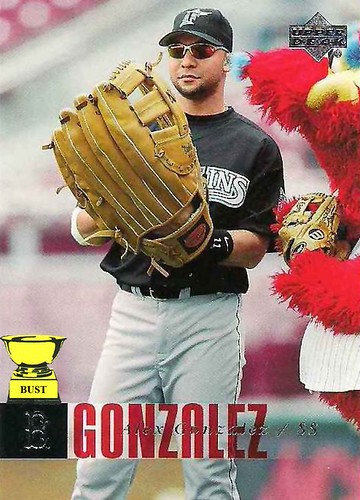 Name:
Alex Gonzalez
Team:
Florida Marlins? Boston Red Sox? It's hard to say
Positions:
Shortstop, second-string mascot
Value of card:
A patch of crimson fuzz
Key 2005 stat:
Stole
Mickey Hatcher's glove
Caption that may have run with the above photo in the Boston Globe circa 2006:
"Recent Red Sox acquisition Alex Gonzalez has been struggling to acclimate to his new team. Above, during Tuesday's game against the Rays, Gonzalez is seen refusing to wear his Red Sox uniform or a regulation glove while his sister stands at his side, costumed as the shortstop's favorite childhood cartoon character, Mr. Jiggles, the world's fattest parrot."