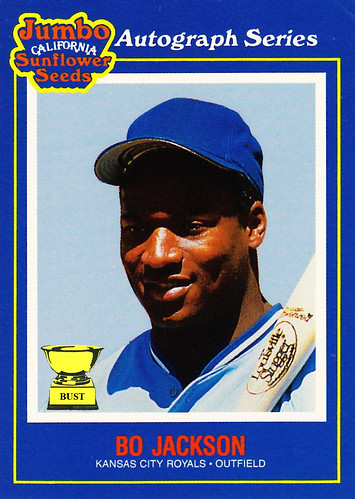 Name:
Bo Jackson
Team:
Kansas City Royals
Position:
Outfield
Value of card:
14 used sunflower seed shells, still moist
Key 1989 stat:
Roughly 2 million images of him doctored
You're doing it wrong:
OK, look at the words at the top of this card. Then look at the image. Notice anything missing? If you said, the Royals logo on Bo Jackson's hat, well, you'd be right, obviously. But most
food-based sports cards
in the early 1990s were required to make players look like they were in the
witness protection program
. No, what we're going for here is that, for an "autograph series," this card seems to be suspiciously unsigned. And while it's true that you could find Bo's
childlike scribbling
on the back of the card, what fun is that? Maybe we'll start signing the back of our credit card receipts and see how that goes over. Seriously, this set would have been the worst thing to ever happen to sunflower seeds if not for
this article
.