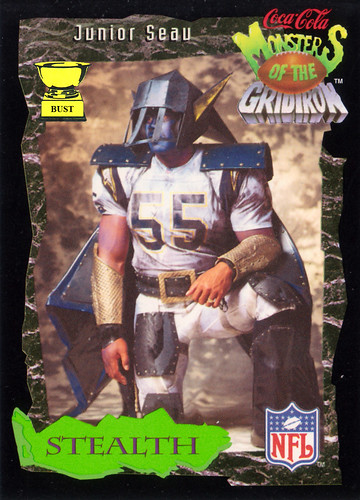 Name:
Junior Seau
, aka "Stealth"
Team:
San Diego Charred-gers
Position:
Linebacker
Value of card:
One picture of a stealth bomber, torn in two
Key 1994 splat:
19-pound belt buckle
Ways in which Junior "Stealth" Seau was not very stealthy:
All that metal plate clanged a lot when he moved.
That blue face paint may have been stealthy, but his biceps weren't camouflaged at all!
Those shiny gold arm guards could be seen from miles away.
His number was clearly visible. It's like he wasn't even trying!
That pointy helmet would likely just end up poking somebody as he walked by.
He was too proud of his flatulence to ever really enter stealth mode.