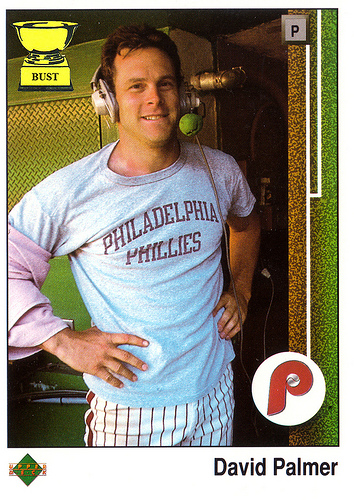 Name:
David Palmer
Team:
Philadelphia Phillies
Position:
Pitcher
Value of card:
One VHS cassette from 2001 with a couple episodes of "24" on it
Key 1988 stat:
29 lips chewed
Conversation between Phillies announcer Harry Kalas and pitcher David Palmer on June 21, 1988:
HK:
"We're back, and we're talking to today's winning pitcher, David Palmer who held the Cubs to one run over seven innings today. David, thanks for joining us."
DP:
"Dad? Is that you?"
HK:
"No, David, this is Harry Kalas, the play-by-play announcer. Now, you looked great out there today, and it was perhaps your best start of the season. What was working for you today?"
DP:
"It was great, Dad! I got a hit and they hardly got any! Plus, in between innings, Coach let me go in the clubhouse and play 'Space Invaders.'"
HK:
"I see. Well, that's just about all the time we have to
"
DP:
"Oh, wow, somebody stuck a lime on the end of the microphone. I'm gonna eat it!"
HK (over the sounds of Palmer chewing on the headset):
"No, David! Dad says no! OK, we've got to go. See you tomorrow for more Phillies baseball."