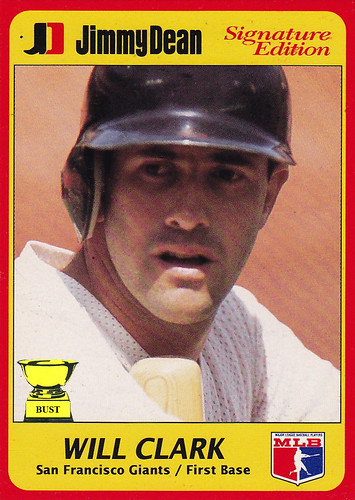 Name:
Will Clark
Team:
San Francisco Giants; Jimmy Dean All-Stars; unknown
Positions:
First base, pitchman
Value of card:
Two eggs over easy
Key 1990 stat:
$650 payday for commercial
A proud tradition:
We here at
The Bust
have fond feelings for Jimmy Dean baseball cards. We remember opening up packages of frozen sausages and pulling out cards wrapped in icy-wet cellophane. Oh, what a combination: mass-produced meat products and mockable cards that don't even have Major League Baseball's permission to use team logos. You remember the greats: a terrible-in-teal
Benito
, a
Kid
with a kid's mustache, and a
Hurt
so big he can't fit within the card's borders. This time? You have a card that's anything but a thrill.
Let's get to meat of this post:
Here are 10 "butchered" catchphrases from Will Clark's Jimmy Dean commercial, circa 1990.
10) "Mmm-mmm, this flash-frozen, microwavable breakfast foodstuff is a home run."
9) "Where there's a Will, there's a sausage."
8) "Jimmy Dean sausages — now made from real boots!"
7) "We put the 'age' in 'sausage.'"
6) "Let me tell you, I know Giants, and these sausages are, well, not too giant, actually. But they're a pretty decent size, when compared with what you might get at McDonald's, or Dairy Queen, for instance."
5) "Grab a skillet, then put it away and open the microwave door!"
4) "I'm Will Clark, and I've seen how the Jimmy Dean sausage is made." (barfs)
3) "Jimmy Dean: the choice of athletes who chew three cans of tobacco a day."
2) "Take it from me, the real 'thrill' is tasting these sausage patties."
1) "Jimmy, I'd eat your sausage any time."