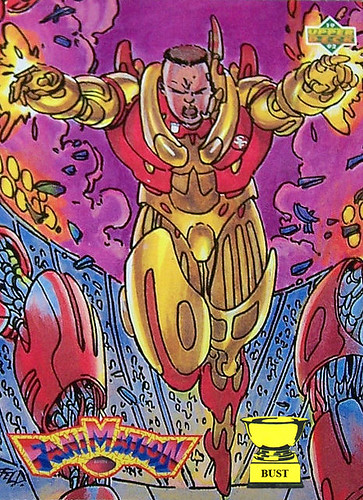 Name:
Jerry Rice
Team:
San Francisco 49ers
Position:
Wide receiver
Value of card:
An old eraser that actually just leaves black marks on the paper
Key 1992 stat:
Two unsportsmanlike conduct penalties for wearing a giant metal suit
Here's what this Jerry Rice card stands for:
J
ust remember, first off, that all of these
Fanimation
cards
were
terrible
E
yes should be shut tight like Jerry's whenever this piece of garbage comes into view
R
obotic suits and codpieces: A match made in heaven
R
ed and Gold have never been so embarrassed (aside from drafting Alex Smith)
Y
elling "I told you I didn't want to be part of this stupid subset!"
R
ather odd how atrophied Jerry is from the knees down
I
mpossible to catch a football while firing wrist guns during a hailstorm of metal shards
C
louds? Smoke? Poisonous gas? Whatever it is, why is the sky the exact same color?
E
ntire Upper Deck staff should have been fired for signing off on this trash