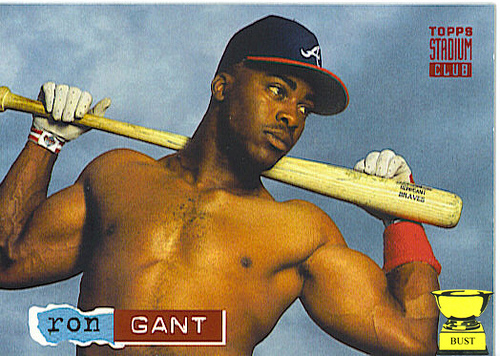 Name:
Ron Gant
Team:
Atlanta Braves
Position:
Outfield
Value of card:
One metric ton of creatine
Key 1993 stat:
Second place at All-Star Game's
shirtless home run derby
No shirt, no shoes, no problem:
Ron Gant was a badass. Look at him. The only thing more impressive than those biceps is that mustache. In 1993, Gant was in his physical prime. When not modeling terry cloth armbands, he was ripping the covers off baseballs and stealing bases like a madman. More chiseled than the statue of
David
, Gant decided to stop wearing his uniform shirt, instead taping his number to his back like a marathon runner. Gant began drawing an unusually high number of walks, as opposing pitchers were distracted by the lights glistening off the baby oil slathered on his chest. Acting commissioner Bud Selig eventually forced Gant to cover himself from the waist up. Gant responded by cutting the sleeves off all his uniform tops, telling the media, "These pythons can't be caged."
Wait a minute:
Why is Ron Gant's right arm so
veiny
? Look at that thing. He looks like a bodybuilding burn victim. Sheesh.