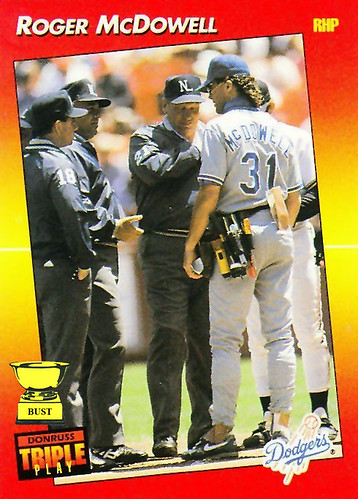 Name:
Roger McDowell
Team:
Los Angeles Dodgers
Positions:
Pitcher, handyman
Value of card:
A scratch from a rusty nail
Key 1992 stat:
One
bearded sidekick
Tool time:
In the fall of 1991, Roger McDowell fell in love. But his love was not for a woman; it was for new ABC sitcom "Home Improvement." McDowell was so enamored with the antics of
Tim "The Tool Man" Taylor
, as played by actor and ex-convict Tim Allen, that the next spring, he came out of the dugout carrying sandpaper, wearing a tool belt and communicating with those around him solely through a series of grunts. Teammates and umpires thought it was strange (the tools, not the grunting
that was nothing new), but since it was an exhibition, McDowell was allowed to keep the belt on. Things got ugly in the sixth when McDowell refused to let reliever
Steve Wilson
take over for him on the mound unless
Wilson
covered the lower half of his face with his glove. Wilson, who hadn't seen the sitcom, responded by trying to strangle McDowell with his own tape measure. When McDowell tried to explain that he was The Tool Man, Wilson told him, "Yeah, you're a tool, all right."