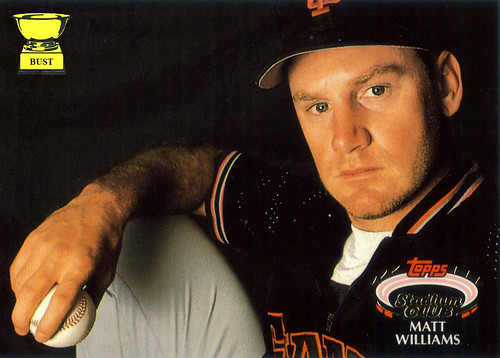 Name:
Matt Williams
Team:
San Francisco Giants
Position:
Third base
Value of card:
A black void of value
Key 1991 stat:
3,212 conversations with
himself
A Giant introduction:
"Well, hello. I didn't notice you there. Did you notice
me
? I thought so. Yeah, I'm just kicking back, relaxing, catching some rays under this blindingly bright light. You ever smell arm hair singed from above? Now you have. By the way, how do you like my jersey? Is it meshy enough for ya? Yes, I know. It's so holy in belongs in a synagogue. What's that? You think I should have shaved before this photo shoot? Pfft. I don't live by other people's conventions. That's why I'm sitting here, posing, with my jock strap outside my pants. You're welcome."