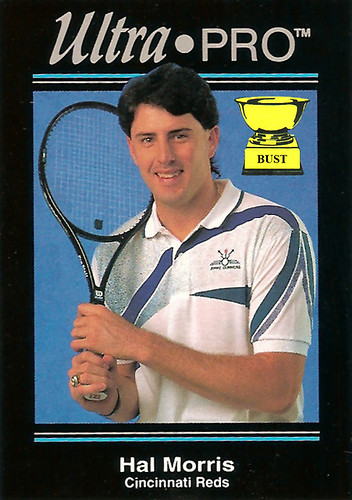 Name:
Hal Morris
Team:
Cincinnati Reds
Position:
First baseman
Value of card:
The little rubber "W" in in racket strings
Key 1991 stat:
Never actually played tennis
Things are about to get punderful:
Sure, everyone knows Hal Morris was aces at the plate, but for a long time, there was one area where he wasn't king of the court: love. He cast his net at women of all ages
40, 30, even 15 once, though her father told Hal to bounce
but he was consistently left playing with his own fuzzy balls. He aimed to serve the ladies however he could, but they would just end up taking a swing at him. His failures left him high-strung, always set on finding fault. Angry, he slammed his fist into the wall, creating quite a racket. But just when he was about to retire and play singles for the rest of his life, along came a Czechoslovakian stunner named
Martina
whose game was the perfect match for his own.