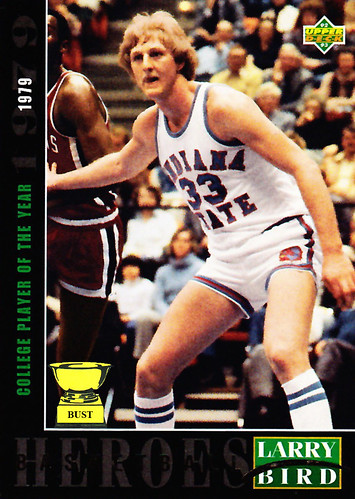 Name:
Larry Bird
Teams:
Indiana State Sycamores, Boston Celtics
Positions:
Forward, trend setter
Value of card:
Three squirts of milk from farm boy
Larry Bird's
cow
Key 1991-92 stat:
1,281 Indiana hillbilly stereotypes satisfied
10 reasons Larry Bird is a fashion icon:
10) Off the court, this Bird always wore feathers.
9) No other all-Americans' mamas' made their uniforms.
8) He mixed thighs and white meat.
7) He rocked
Starter jackets
like no one's business.
6) He finished his outfit with on-the-court roller skates.
5) Socks on his legs and in his shorts.
4) Women in the early 1980s began lusting over knobby knees.
3) He patented the "bucket cut" when the bowl cut just wasn't enough.
2) He made it acceptable to flaunt an invisible mustache.
1) Pale became the new black.