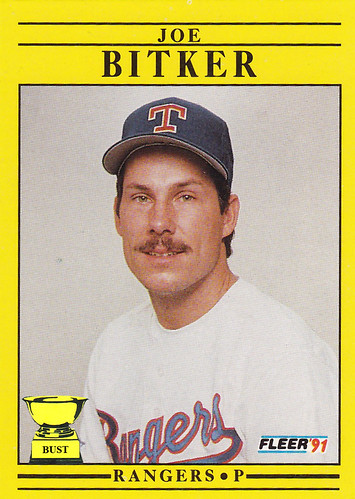 Name:
Joe Bitker
Team: Texas Rangers
Position: Pitcher, apparently
Value of card: A slug cooked on a sidewalk in the summer in Arlington
Key 1990 stat: Christ, who could care after looking at this card?
C'mon, Fleer; clean it up: Really, Fleer? Really? This is your attempt at a baseball card in the early 1990s? Pathetic. Look at this schmuck. You felt it necessary to include in the set some bum who even die-hard Rangers fans — both of them — have never heard of? This guy's chocolate sundae-splotched mustache should have been enough to leave him off the esteemed 1991 Fleer roster. The blinding yellow border is torture enough, for chris'sakes. My eyes! My eyes! But, as the Fleer brass, you made the decision to track down old Jack ... er ... John ... er ... Joe Bitker for a studio shot. Couldn't we have chalked this one up to "We'll get 'em next year"? I mean, come on: Sears provides the poor with better studio-shot backgrounds. Yeah, and great work with the contrast between his jersey and the bed sheet behind him, too. The only way you could have given collectors a worse card is if instead of that pallid sheet behind this bum you gave the world the gift of a little more of the eye-gouging yellow that's plastered on the border of every card in what is perhaps the ugliest set of sports memorabilia the world has ever seen.