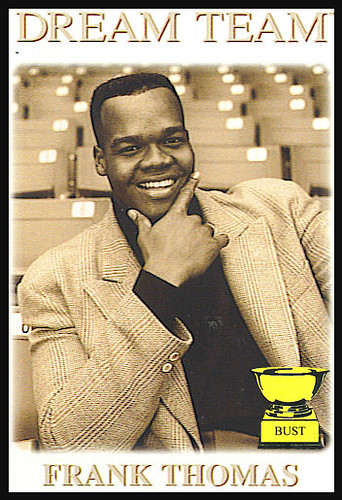 Name:
Frank Thomas
Team:
Chicago White Sox
Position:
First base
Value of card:
One pickup line
Key 1992 stat:
Zero times crashed and burned
Frank Thomas, pickup artist:
"Well, hello there. Come here often? My name's Frank. You know, a lot of people call me Big Hurt, but I think I just scraped my knee falling for you. Do you like my jacket? Me too, but I bet it'd look better on your floor. Baby, I'm sorry. No, I'm not drunk, I'm just intoxicated by you. Come on, girl, we're already at the stadium — let's take a trip around the bases. I hope you work for UPS, because I've got a package for you to handle. Hey, where are you going, sweet thing? If I said you had a beautiful body, would you hold it against me?"