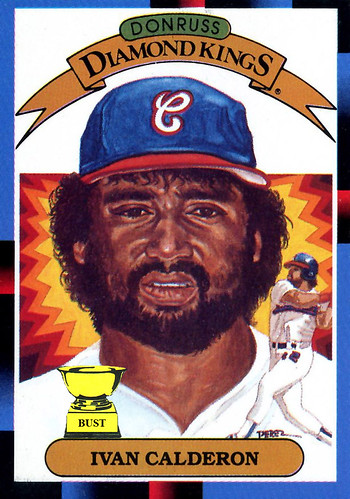 Name:
Ivan Calderon
Team:
Chicago White Sox
Position:
Outfield
Value of card:
Six diamonds (playing cards, not gemstones)
Key 1987 stat:
412 children frightened
Baseball's back, and so are Diamond Kings:
We're ruining a perfectly good week again. In the past, we brought you
atrocious
,
god-awful
and
dreadful
installments of this famed Donruss series, but we had an idea (just one): Why not focus on Diamond Kings that are more frightening than they are funny? Well, we were mentally exhausted with coming up with our one idea for the week, so we couldn't think of a reason to stop ourselves from bringing you Disturbing Diamond Kings Week. Again, we apologize in advance.
What makes this particular Diamond King so disturbing?
Short answer: a lot of things. We can start with Calderon's parents, who appear by his name and his looks to be a Russian soldier and a Puerto Rican yeti. Then, of course, we have Calderon's exploding afro, which we can only imagine covered poor people over a 2-mile radius in Soul Glo juice. And we would be remiss if we didn't mention Calderon's time as a
drummer
. But perhaps the most disturbing thing on this card — no, not the cockeyed chin or octopus bangs — is the tiny
Pete Incaviglia
who has taken the place of a tiny Ivan Calderon. Now that's disturbing.