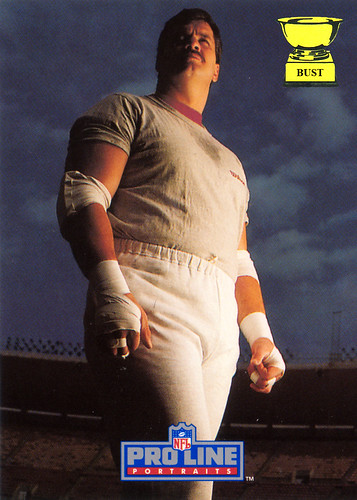 Name:
Matt Millen
Team:
Washington Redskins
Position:
Linebacker
Value of card:
14 pieces of used, sweaty hand tape
Key 1990 stat:
8 pairs of sweatpants owned
Top 10

reasons Matt Millen was a man among men:
10) He made that chin cleft with a hammer and chisel.
9) His T-shirts are tucked into his tighty-whities
8) He used his hand tape to silence trash-talking opponents.
7) He always strutted around staring at the sky with his head slightly tilted.
6) His mock turtleneck is made from real turtles.
5) He used his elbow pad as a jockstrap.
4) He turned coal into diamonds between those thighs.
3) He squeezed the sweat from his shirt into a water bottle and drank it.
2) He played games in this outfit.
1) He has a pizza stuffed in the front of those sweatpants.