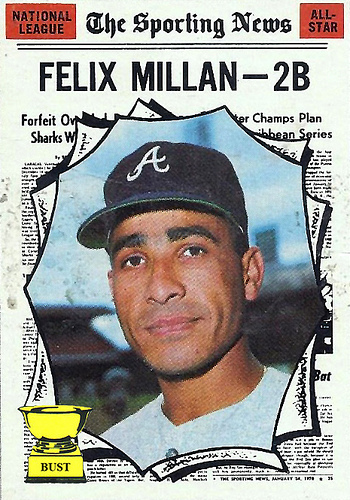 Name:
Felix Millan
Team:
Atlanta Braves
Position:
2B (or, second base)
Value of card:
Free newspaper subscription for one month (Sundays through Fridays not included)
Key 1970 stat:
One boring all-star card
Journamalism:
Newspaper headline writers (yes, there are still a handful of them these days) are tasked with summarizing a full story into just a few words. It's a task that requires thought and time, and it usually takes a few attempts to find the perfect wording. Here are a few headline possibilities that were rejected before this poor imitation of The Sporting News settled on the super-informative "Felix Millan
2B":
Felix Millan 2 Eyebrows
Felix Millan Not the Cat
Some Guy 2B
Felix Millan Smiling?