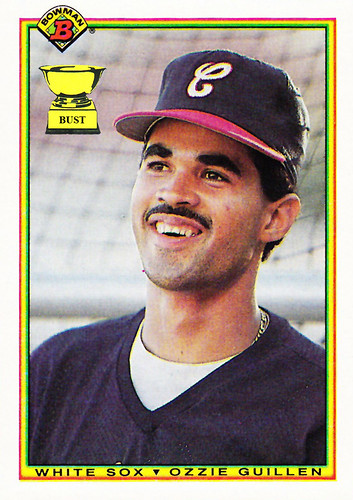 Name:
Ozzie Guillen
Team:
Chicago White Sox
Position:
Shortstop
Value of card:
On the Cuban black market, still nothing
Key 1989 stat:
Magic Marker eyebrows
Fun facts about suspended Miami Marlins manager Ozzie Guillen and the hideous sculpture in his team's stadium:
The Marlins' sculpture offends people with its loud music and bright colors. Ozzie offends people with his loud mouth and not-so-bright comments.
The Marlins' sculpture does crazy things during the team's home games. Ozzie says crazy things whenever he pleases.
The Marlins' sculpture does its job when the team hits a home run. Ozzie's going to lose his job if the team doesn't start hitting more home runs.
Ozzie Guillen offered praise for an oppressive dictator. The Marlins' sculpture could be considered a torture device.
Ozzie Guillen apologized for his comments about Fidel Castro. Castro and the rest of the world are owed an apology for that outfield monstrosity.