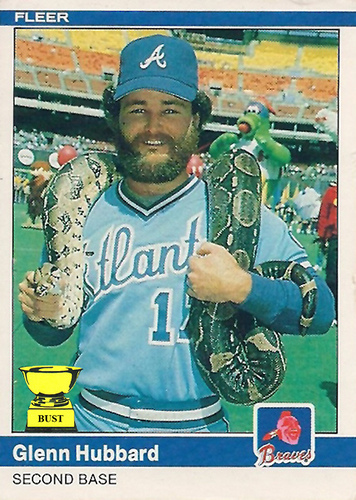 Name:
Glenn Hubbard
Team:
Atlanta Braves
Positions:
Second base, about to get strangled by a snake
Value of card:
1 square inch of shedded snake skin from 1984
Key 1983 stat:
Scared 15,920 children
Nothing to see here:
In 1983, the Atlanta Braves went all out to celebrate all-star second baseman Glenn Hubbard's birthday. Before a road game in Philadelphia, the Braves enlisted the help of the Phillie Phanatic, a homeless man in a Barney Rubble costume, the Fleer photography staff, the Eastern Seaboard's best balloon "artist" and a snake handler named Xeres to honor their hirsute teammate. The festivities were going fine until Xeres placed a 12-foot-long boa constrictor on Hubbard's shoulders. The second baseman stood petrified, his beady eyes crying for help while he put on his best smile for the Fleer photographer. But things took a turn for the ugly when the boa mistook Hubbard's sizable beard and hairstyle for another reptile and mated with his face. Both terrified and aroused, Hubbard lost consciousness and had to be revived by the
Phanatic
, who threw a bucket of confetti on him.