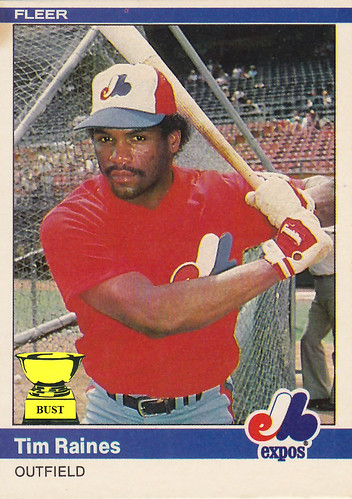 Name:
Tim "Rock" Raines
Team:
Montreal Expos
Position:
Outfield
Value of card:
3 grams of "rock"
Key 1983 stat:
7 inches of mustache
Fun Facts about Canada's cultural capital, Montreal, and Tim Raines:
Montreal's official language is French. Raines once ordered a dish a la carte, then slapped himself for using a French term.
Montreal is home to the NHL's Canadiens. Raines would never invite a Canadian into his home.
Montreal, perhaps surprisingly, is known for its jazz. Raines, probably unsurprisingly, was nicknamed "Rock" and hated jazz.
Montreal became a haven for Americans seeking alcohol during Prohibition. Raines considered his stomach and liver to be havens for alcohol.
Montreal, as a Canadian city, is second only to Toronto. Raines, as a 1980s base-stealer, is second only to Bust legend

Rickey Henderson

.
Montreal is a city with a lot of panache. Raines is a player with a lot of mustache.