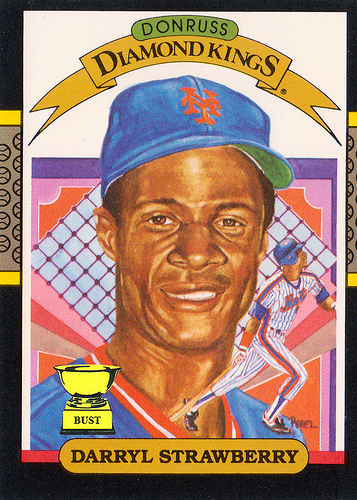 Name:
Darryl Strawberry
Team:
New York Mets
Position:
Outfield
Value of card:
A straw with a hole in it
Key 1986 stat:
Half a mustache
Is Darryl Strawberry having a medical emergency?
While li'l Darryl appears to be fit and hale, watching yet another long ball soar out of Shea, big Darryl might be in trouble. His hat's a little askew, but that's no big deal, and his eyes look fine. His nose is pretty asymmetrical, though
perhaps he's been in a fistfight? The big worry here, however, is what's going on with his mouth and cheeks. Either he's having a stroke or half of his face is melting due to some sort of witchcraft. Grab a cross and call an ambulance, Straw! Every second counts!