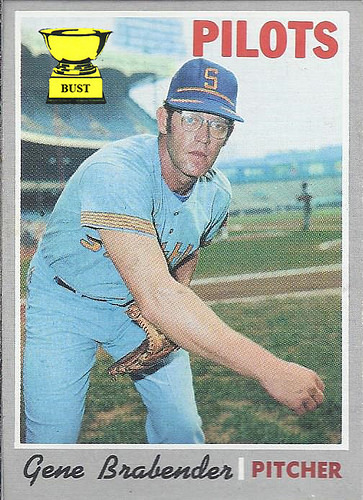 Name:
Gene Brabender
Team:
Seattle Pilots
Position:
Pitcher
Value of card:
6 ounces of fish guts from Pike Place Market
Key 1970 stat:
Zero Seattle Pilots games, because the team moved to Milwaukee before the 1970 season started
Quite the honor:
We here at The Bust are excited to welcome Gene Brabender to the Name Hall of Fame. Surprisingly, this is the first player from the one-year-and-done Seattle Pilots to be given the honor. But Brabender isn't the first player whose name reminds us of the crazy summer nights of our youth. There's
Motorboat Jones
, who knew how to put his head down and get things done. Then there's
Rusty Kuntz
and
Pete LaCock
, who you can barely keep apart. And, of course,
Dick Harter
, who reminds of us of the third-period tuck, if you know what we mean. So here's to Gene Brabender, a player whose best pitch was an offer of heavy petting.
Card submitted by Douglas Corti