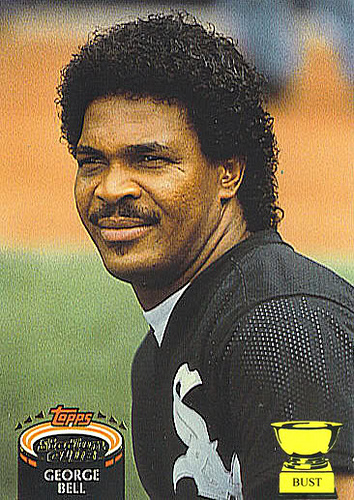 Name:
Jorge "George" Bell
Team: Chicago White Sox
Position: Outfield
Value of card: $19.95! Wait! If you act now, two bottles for $12.95!
Key 1991 stat: 144 ounces of jheri curl juice
Just let your sooooooul glow, baby: Jorge "George" Bell was good-looking and he knew it. He had women in every American League town and at every port in his native Dominican Republic. But when he lost his swagger on the diamond after the 1990 season, he lost his swagger with the ladies, as well. Enter: Soul Glo. Bell first heard of the classic hair product in 1988's Eddie Murphy vehicle, "Coming to America." At first, he thought it was a fictitious product. Then he saw a bottle of Soul Glo on a drug-store shelf. It spoke to him, "Comprame, Jorge, comprame." ("Buy me, Jorge, buy me.") Bell did, and his life changed. His afro had a glistening sheen, dripping with sensuality. Women complimented him and street children followed him with paper cups, catching the dribbling Soul Glo juice so they could sell it to back-alley doctors who administered it as a fertility drug. Thanks to Soul Glo, Bell was dripping with sensuality.