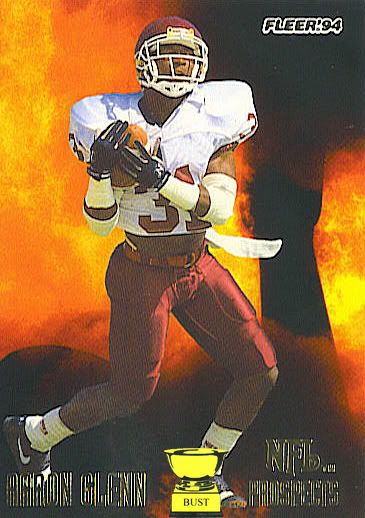 Name:
Aaron Glenn
Team:
Texas A&M
Position:
Cornerback
Value of card:
One ring (to rule them all)
Key 1993 stat:
72 orcs slain
He's no hobbit:
Gather 'round and hear the tale of Aaron "Frodo" Glenn, a simple cornerback who faced an incredible task. Walking through the wooded land of College Station, Texas, Aaron noticed a football partially buried in the ground. He unearthed the ball, picked it up and immediately felt a sense of destiny flow through him. This was the Football of Power, stitched in the fires of Mordor. The ball had long ago been stolen from the sport's
evil king
and lost in the pages of time. Aaron's find set forth a legendary series of events, teaming him with elves, dwarves and a
gray wizard
, and pitting him against
ogres
, demons and tackling dummies. The young defensive back's chore: Return the ball to the land of darkness and cast it into the furnace from whence it came. Aaron, seen here at the gates of the fiery kingdom, overcame the many obstacles set before him, spiked the cursed object into the flames and did the
Ickey Shuffle
. The dark lord's power was broken, and little Aaron Glenn became a
Saint
.