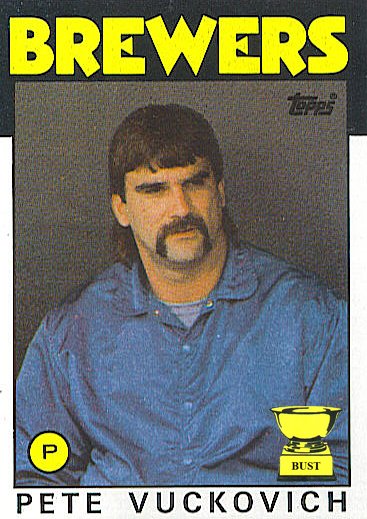 Name:
Pete Vuckovich
Positions:
Pitcher, Swamp Cooler Repairman
Value of card:
Less than the cardboard on which it's printed
Key 1985 stat:
12 bologna sandwiches eaten in one week
The truth about Pete:
The above photo was taken the day of Vuckovich's one and only major league outing. The Hales Corners, Wisc., native was at
Milwaukee County Stadium
on a blistering 106-degree day, plying his trade. But his trade wasn't throwing fastballs, it was fixing swamp coolers. In the intense late-summer heat, the Brewers' locker room cooling device broke. By noon, the clubhouse air was heavy with sweat and desperation. A call was made to CoolGuys Heating and Air Conditioning Services, Inc., and two-and-a-half hours later a repairman in a blue, button-up jacket showed up. Just because old Pete didn't play in the big leagues didn't mean he wasn't a pro. That swamp cooler was up and running within the hour. That day, the players were the ones doing the cheering. A series of high-fives and butt slaps ensued, which led to Vuckovich and three utility infielders shotgunning a couple of MGDs. What happened next, as they say, is history. Outfielders Ben Oglivie and Billy Joe Robidoux persuaded manager George Bamberger to let Pete "The Cold Front" Vuckovich throw an inning in an otherwise meaningless late-season game against the Kansas City Royals. In the bottom of the eighth, Bamberger called for the big righty with the bushy handlebar mustache. Vuckovich stepped onto the mound, still wearing his CoolGuys work jacket. His first pitch hit
George Brett
in the ear. His second pitch soared into the netting. His third pitch hit
Steve Balboni
in the boiler. Balboni charged the mound, the Earth shook for 27 seconds and Vuckovich's major league career ended. He spent the next 14 years fixing swamp coolers, eating bologna sandwiches and drinking MGD. He died in 1999.