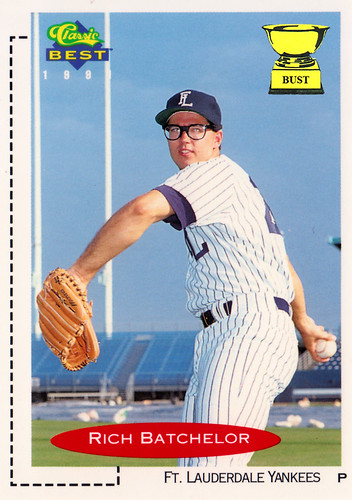 Name:
Rich Batchelor
Team:
Fort Lauderdale Yankees
Position:
Pitcher
Value of card:
6 square inches of tarp
Key 1990 stat:
Zero runs allowed during rain delays
Yankees'

scouting report

on pitching prospect Rich Batchelor:
"From our research, he does well in an empty stadium with no other players on the field. ... Despite being a Batchelor, we don't need to worry about him getting sidetracked with the ladies. ... If he doesn't work out, we could deal him to the 'Revenge of the Nerds' production team. ... We can foresee a future on the New York Yankees, as the
assistant to the traveling secretary
. ... Rich Batchelor, poor pitcher."
Card submitted by Al Filipczak