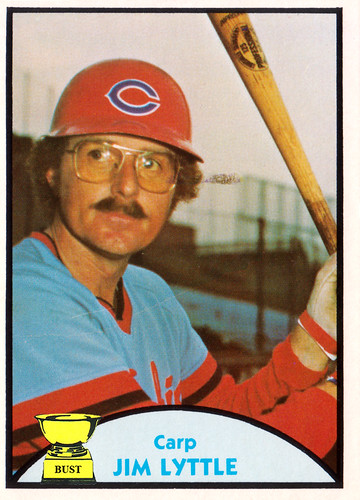 Name:
Jim Lyttle
Team:
Hiroshima Toyo Carp
Position:
Outfield
Value of card:
Carp crap
Key 1978 stat:
Kept telling his buddies he had signed with the Reds and had the helmet to prove it
Fun facts about Jim Lyttle and actual carp:
Carp are an oily freshwater fish native to Europe and Asia. Lyttle was an oily ballplayer who moved to Asia to get fresh with the ladies.
Some carp species have a large hump along their backs. With a sweet mustache like his, you know Lyttle did a lot of humping back in his day.
Types of carp include goldfish and koi. Lyttle's glasses resemble an aquarium.
Many families eat carp in some parts of the world. Lyttle's play was so poor, he had a hard time feeding his family.
Several species of carp are considered invasive species, and millions of dollars are spent trying to control them. Lyttle's body odor was considered invasive, and dozens of teammates tried to make him shower more often.