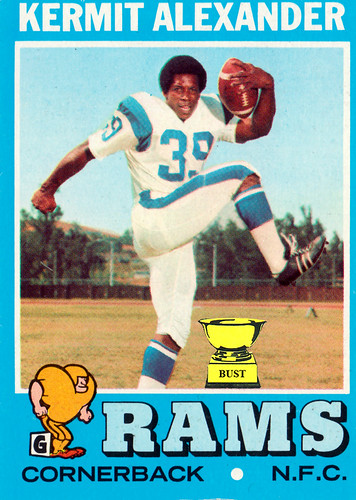 Name:
Kermit Alexander
Team:
Los Angeles Rams
Position:
Cornerback
Value of card:
Key 1971 stat:
Never actually ran like that on the field
Fun facts about Kermit Alexander and Kermit the Frog:
Kermit the Frog spends much of his day with someone's hand up his backside. Judging by this pose, it looks like Kermit Alexander is hoping for that sort of thing, too.
Kermit the Frog's skin is made of felt. Kermit Alexander's hair is made of felt.
Kermit the Frog has starred in several feature films. Kermit Alexander has been featured in several highlights of other stars scoring touchdowns.
Kermit the Frog is friends with the insatiably hungry Cookie Monster. In 1973, Kermit Alexander was teammates with the insatiably hungry Tom Dempsey.
Kermit the Frog is in a relationship with Miss Piggy. Kermit Alexander dated a few swine in his day, as well.