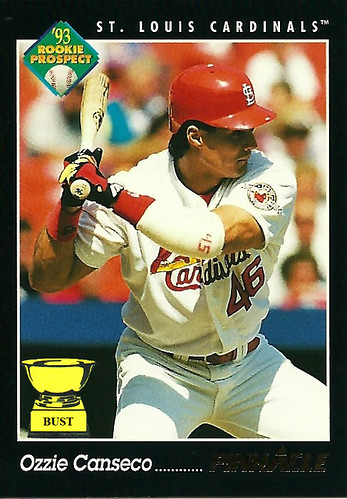 Name:
"Ozzie" Canseco
Team: St. Louis Cardinals
Position: Outfield
Value of card: The tails side of a nickel
Key 1992 stat: Zero "Joses." That's right. Don't even bother checking any documents.
The old switcheroo:
Jose Canseco was a slugger known in the early 1990s for his towering home runs and
Hollywood lifestyle
. He had an
ego
as big as
his bat
, and both were often on display. Then, Jose Canseco's life came crumbling down. He got divorced, arrested and was accused of using steroids as a
tool of his trade
. With his life in a tailspin, Canseco left the game. A few months later, the Cardinals signed a slugging outfielder by the name of "Ozzie" Canseco. He hit for power, ran with speed and always wore a shirt that read,
"Bash Brother 4 Life."
Reporters pestered "Ozzie" about his past. He would shirk the questions and point to what he called a birthmark on his hand. "See, how could I be Jose with this birthmark?" he would say. A reporter would usually speak up and tell him it looked like a circle colored in with a Sharpie marker. "Pay that no mind," Ozzie would say, "I am Ozzie Canseco, brother to Jose, who has disappeared and left me, a clean, sober, law-abiding physical specimen to carry the baseball torch for the Canseco kin." To this, a reporter would usually say, "Jose?" To which "Ozzie" would always turn and reply, "Yes," before running from the locker room.