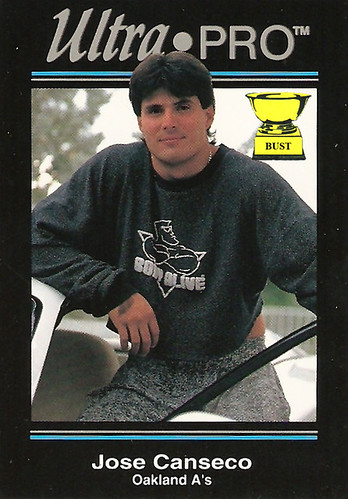 Name:
Jose Canseco
Team:
Oakland A's
Position:
Outfield
Value of card:
Cat hair
Key 1991 stat:
Dressed to the nines (minus eight)
Excerpt from early-'90s "MTV Cribs" forerunner "MTV Pads":
"Hi, I'm Jose Canseco, and welcome to 'MTV Pads.' We're going to start today in my driveway so I can show off my sweetest new acquisition, this white Corvette convertible. I have to be at the ballpark almost every day, and I've found it's best to arrive in style. That's why, after I get there, I like to sit on the corner of the car door frame in my acid-wash Hammer pants and ripped-midriff sweatshirt
complete with a picture of a dude almost as buff as me on it
and think about how awesome my hair looks. Here, allow me to demonstrate. (
Sits in pose seen above
) Did I mention this ride has state-of-the-art fuel injection? Oh, speaking of injections, let's go check out my home gym. Er, not that any injections go on there. Ha-ha, that's weird, why did I say that? Um, maybe we should go to commercial."