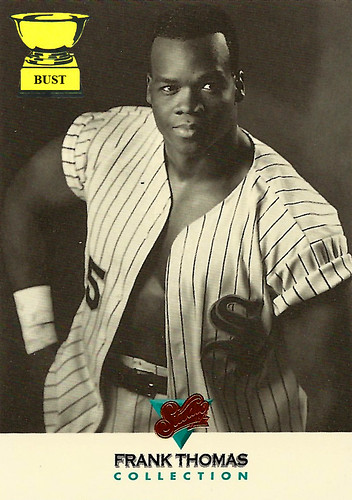 Name:
Frank Thomas
Teams:
Chicago White Sox,
Thunder From Down Under
Position:
Half-dressed first baseman
Value of card:
An ounce of baby oil
Key 1992 stat:
183 portrait photos of him not looking at the camera
Kids, avert your eyes:
Frank Thomas was king of Chicago in the early 1990s,
bashing
home runs,
stealing the hearts
of women and even
disarming
explosives. But the Big Hurt had a secret: During the offseason, he worked as a, ahem,
dancer
just for the thrill of it. Working under the pseudonym Thomas Frank, the slugger would put on a mask and then proceed to take off everything else for the ladies (and gents) who ventured into a dark and seedy Chicago club called The City of Big Shoulders and Bigger Other Things. His secret got out in early 1993, though, and his teammates decided action must be taken.
Ozzie Guillen
,
George Bell
and
Ron Karkovice
barged into the club one night while Thomas was on stage. Guillen started cursing at the slugger while Bell slung the half-bare basher over his shoulder and carried him to the car. Karkovice, however, took a seat and stayed behind.