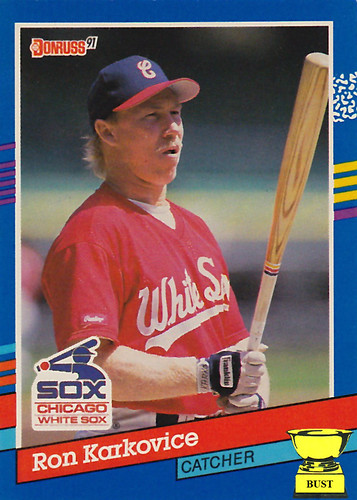 Name:
Ron Karkovice
Team:
Chicago White Sox
Position:
Catcher
Value of card:
One blank fortune-cookie fortune
Key 1990 stat:
Four house-training lessons
The new legend:
After finding so much success with
Greg "The Kodiak Brute" Luzinski
, the Chicago White Sox sent scouts all over the world, looking for their next slugger. They needn't have bothered — he was already on the South Side. Abandoned at age 7, Ron Karkovice grew up feral along the shores of Lake Michigan, fishing with his bare hands, building a shelter out of mud and garbage, and befriending a family of raccoons. At age 24, the hulking Karkovice was spotted by a scout sailing the lake. The scout saw the next Luzinski, but lightning did not strike twice for the Pale Hose. Karkovice had never seen a baseball bat before, and swung over more curveballs than
Pedro Cerrano
. But his years of snagging carp out of Lake Michigan had made him quick-handed, with reflexes previously unseen in baseball. As a catcher, he knocked down pitches eight feet outside the zone, and only a few times did he try to eat them. The Sox stuck him behind the plate, batted him ninth and tried to ignore the stench of seaweed emanating from his golden locks.