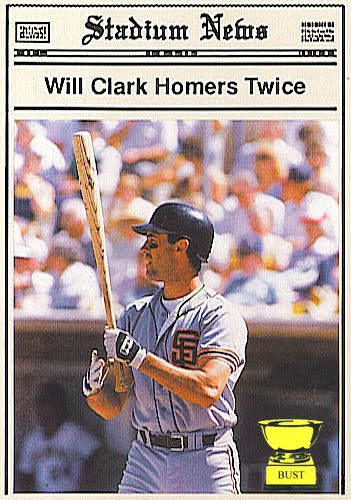 Name:
Will Clark
Team: San Francisco Giants
Position: First base
Value of card: 75 cents at newsstands
Key 1989 stat: Will Clark Homers Twice
This guy makes headlines:
The newspaper industry is in a tailspin. The New York Times sold part of its Manhattan headquarters to raise funds. USA Today's parent company, Gannett, has seen its stock plummet. Every daily newspaper in the greater Bay Area has shed jobs faster than a cheetah falls down a flight of stairs. But one paper has survived the recession and the shift of readers and advertising dollars to the Internet. That paper, in all its glory, is the Stadium News. How does the Stadium News remain profitable? For one: bold news judgment. The day after Nelson Mandela was released from a South African prison, every major newspaper led with the anti-apartheid activist's story. Every major newspaper but one, that is. The Stadium News led with a crisp, telling headline: "Will Clark Homers Twice." Did he hit two home runs in a season or in a game? It doesn't matter. Did his first name have to be used directly above a six-column-wide, 42-inch-long photo of him? Obviously, yes. Did readers suffer because the Mandela story was relegated to a 4-inch brief on Page 14? Not unless they hate America. All these questions aside, it wasn't only news judgment that put the Stadium News in the upper echelons of the industry. The paper's design broke down barriers and forged new boundaries of creativity. It was straightforward, sure, but it was breathtaking. There's no questioning that news judgment and creative design helped the Stadium News grow its readership. But what put the paper over the top? Media critics from the nation's most prestigious journalism schools agree: The postmodern shift to eliminating the rigid confines of a
story
speaks to today's news consumer in a way a bunch of silly words simply can't.