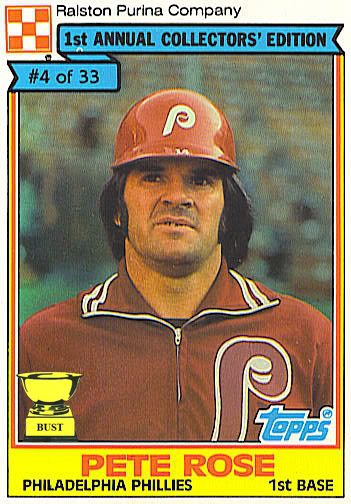 Names:
Pete Rose, Charlie Hustle
Team:
Philadelphia Phillies
Position:
First base
Value of card:
Over/under 75 cents
Key 1983 stat:
Zero haircuts
A peek into the mind of a legend:
The staff
psychic
here at
Baseball Card Bust
is at times able to determine the thoughts going through the minds of our subjects. Here's what Pete Rose was thinking at this moment in 1983: "That $3,000 on the Orioles at 15-to-1 this year is looking pretty solid. ... Remember when I nearly killed that bum Ray Fosse at the All-Star Game? That was awesome. ... I think it might be time to switch shampoos. ... If Rick Rhoden comes in tight on me one more time, I'm gonna bust his jaw so hard he'll be spittin' teeth for a week. ... What was that broad's name at the strip club the other night? Candy? Sandy? Mandy? Crap, I think she stole my pager. ... These
Jockeys
are a little tight. ... Screw Philly, I'm going into the Hall of Fame as a Red."