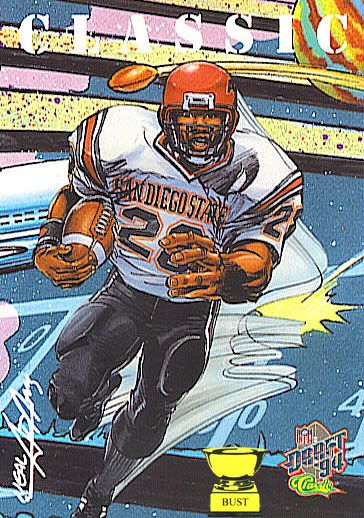 Name:
Marshall Faulk
Team: San Diego State
Position: Running back
Value of card: 1,400 space bucks
Key 1993 stat:
14 corrective surgeries on his left hand
Sensory overload:
We at
Baseball Card Bust
aren't certain what's most amazing about this illustration. Sure, we knew Marshall Faulk repeatedly dodged exploding football missiles while on the gridiron. We suspected that his speed alone could affect the orbits of planets from
other solar systems
. But we didn't know he could rip through the fabric of time and space, or whatever is going on immediately behind him. And we never noticed that his left hand was so deformed it looked like some giant claw with footlong fingers. Look at that thing! Faulkenstein couldn't just palm a basketball, he could crush one, if he so chose. Getting stiff-armed by him would be like running into a bony wall. We'd like to see
Stallone
arm wrestle this guy, though.
Over the top
, indeed.