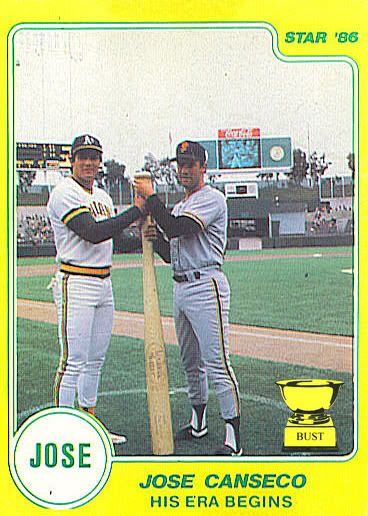 Name:
Jose Canseco
Team:
Oakland A's
Position:
Jose
Value of card:
One off-center photo
Key 1985 stat:
Top-ranked Jose in American League
That's entertainment:
Before the days of sausage races, dancing chickens and
"Kiss Cams,"
baseball fans were often left to amuse themselves. But in 1985, the lucky followers of the Oakland A's looked forward to the third-inning stretch, when young star Jose Canseco would challenge the opposing team's best player to several
feats of strength
— a contest that came to be known as The Jose. Here during a spring training game, Canseco and Giants slugger Will Clark prepare to place their heads together over the Bat of Fortitude, spin around 20 times and see who can run the bases fastest. Other contests included seeing who could take the most pitching machine balls to the
torso
, ballboy tossing, a chicken wing eating contest, power lifting the opposing manager and
shirtless home run derby
. Canseco ended the season with an 80-1 record (home games only), with his only loss coming to Dave Winfield, who won The Jose 4-3 after pinning a bear during a bout of Grizzly-Roman wrestling.