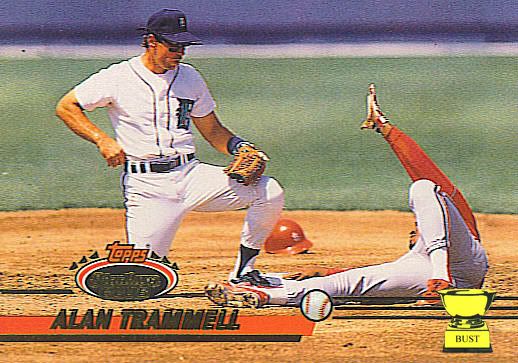 Name:
Alan Trammell
Team:
Detroit Tigers
Position:
Shortstop
Value of card:
One punch to the neck
Key 1992 stat:
113 kung fu movies starred in
Back off, buddy:
You don't want to mess with Alan Trammell. Oh, what's that, St. Louis Cardinals infielder Jose Oquendo? You think you're going to come in hard, trying to break up Mr. Trammell's double-play ball? I don't think so. POW! You just got judo chopped in the duodenum! Oh, what, now you're going to cry about it? Maybe you should have kept those cleats a little lower. Start any more static, and Alan will call in his boy
Sweet-Lou Whitaker
to hyphenate your ass. If they can intimidate Tom Selleck in an episode of "
Magnum, P.I.
," imagine what they can do to you. So do yourself a favor, smart guy, and just stay down.