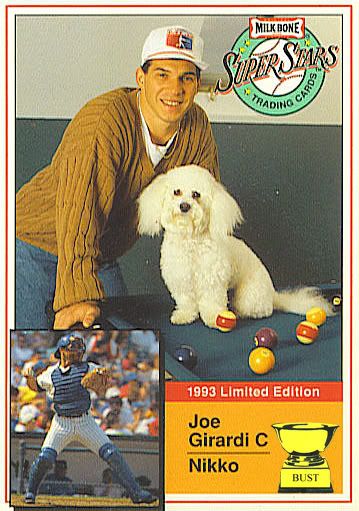 Name:
Joe Girardi
Team:
Chicago Cubs
Position:
Catcher
Value of card:
Worth its weight in ticks
Key 1992 stat:
381 games of fetch played
A dog's life — and near-death:
I know what you're thinking: What's up with Joe Girardi's baggy brown sweater? What you may not have noticed is that there's a fuzzy white dog sitting on Girardi's pool table. This is Nikko, the catcher's beloved bichon frise. Girardi would spend hours tossing billiard balls for Nikko to fetch, feeding him chalk and trying to comb frizzy white hairs out of his garbage-bag-size clothing. Eventually, the Cubs' backstop taught Nikko how to jump on his pool table and do trick shots with his nose. Teammates Paul Assenmacher and Andre "The Hawk" Dawson mocked Girardi for the girly-dog he called friend -- until Nikko schooled them in a game of snooker. But the fun nearly came to an end one night in August 1992. Girardi had arrived home from a nine-day West Coast swing and was eager to get in a game of doggie nine ball. Nikko, however, had taken ill. A frantic Girardi rushed his best friend to the veterinarian, where it was discovered the pooch had somehow swallowed a pool ball. It had moved into the pup's lower intestine, and surgery would likely kill the dog, the doctor said. Forced to choose between putting down Nikko and hoping the object would run its course, Girardi chose life. A sleepless, painful 24 hours later, the bichon frise managed an epic bowel movement. It was the first and only time in Girardi's career that he was happy to be responsible for a passed ball.
Not making this up:
On the
back of the card
, it reads, "Nikko is a great pool player and likes to run around with the laundry."