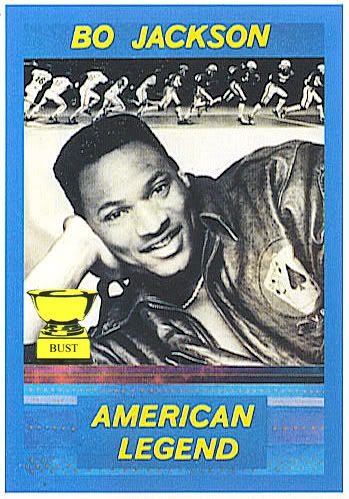 Name:
Bo Jackson
Teams: Kansas City Royals, The Aces (R&B group)
Positions: Outfield; Arm on Cheek
Value of card: N/A
Key 1990 stat: Two sports, one gargantuan ego
Disclaimer: Baseball Card Bust did not make this card with the original version of Microsoft Paint and the help of the Yucata Valley High School class of 1987 yearbook staff. It was, in fact, purchased at a Phoenix-area card store in the early 1990s.
The American Legend:
According to the shabbiest card ever produced (see above), Bo knows how to be a legend. Bo Jackson is such a legend, he poses in front of a poster of himself morphing from a baseball player into a football player. Bo is such a legend, he wears a leather jacket with aces on the breast pocket. Bo is such a legend, he can pose like
Punky Brewster
and get away with it. Bo is such a legend, he is compared to other American legends on the flip side of the above card. Now, which American legends would you place in Bo Jackson's neighborhood? Perhaps Jim Thorpe, the gold-medal-winning multisport star from the early part of the 2oth century. Or maybe Deion Sanders, the flamboyant former cornerback and outfielder who dominated in one sport and stunk like sulphur in another. What about Michael Jordan, Wayne Gretzky, Joe Montana or Mark McGwire? According to the flip side of the calamity that is the 1991 Bo Jackson Kalifornia Kardz -- please, don't choke on the double K's -- none of these athletes is even near Bo's class. No, to "live in Mr. Jackson's neighborhood," you must be a "leading American legend." Do yourself a favor and
click here
to see who's important enough to the fabric of Americana to be featured on the back of this disgraceful card.